These Top 10 Hottest LEGO Sets for Christmas 2019 are sure to make kids of all ages smile!
The top 10 hottest LEGO sets below will bring a smile to any child's (or collector's!) face this holiday season. These sets vary in age groups, building abilities, and themes.
1. LEGO Friends Heartlake City Amusement Pier
Roll up for the fun of the fair with the LEGO Friends 41375 Heartlake City Amusement Pier construction set. This amusement park toy set allows your little builder to immerse themselves in the excitement of a theme park experience. It includes a ticket kiosk and turnstiles where the friends can enter and exit. There's a spin-the-wheel stall where fairgoers can try to win treats. The carousel ride features 3 chairs, which fly round in a blur thanks to a spinning twisting function. The star attraction, however, is the pirate ghost ship where your young Friends fan can enjoy chills and thrills as they whizz round the pirate shipwreck. As the car travels through the amusement park ride's spooky textile foils, they are plunged into a world of bats, skeletons and scorpions. This LEGO Friends amusement park set includes 5 mini-dolls, plus 2 animal figures and 2 skeleton figures.
Where to Buy: Amazon | LEGO.com
2. LEGO City Space Deep Space Rocket and Launch Control
Give young space adventurers a treat with a NASA-inspired toy rocket launch set. This awesome LEGO City 60228 Deep Space Rocket and Launch Control kids' toy features a modular, multi-stage rocket with cockpit, booster and payload storage modules, and a monorail system with stops at the rocket, research area with geode retrieval training and launch control tower. There's also a launchpad with opening tower arms, rover with articulated, new-for-August-2019 grappling arm and launch control tower with detachable window section, fold-out function and a countdown function. Kids can use a mobile device as a screen for interactive play opportunities with the City Explorers app. 
Where to Buy: Amazon | LEGO.com
3. LEGO Marvel Spider-Man: Spider-Man Bike Rescue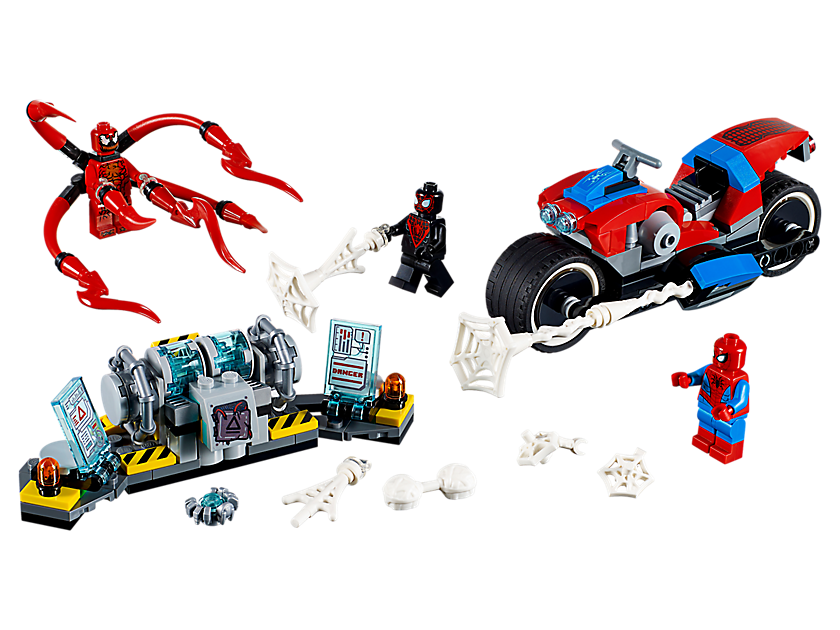 Speed through New York City streets and help Spider-Man and Miles Morales thwart evil Carnage's mission to blow up the power generator in LEGO Marvel Spider-Man 76113 Spider-Man Bike Rescue. This fun building toy for kids features a Spider-Man bike with a tech spider shooter and web gun (non-shooting), and a buildable power generator with an explode function. Also includes 3 LEGO minifigures, plus 9 assorted web elements to customize your builds, minifigures and weapons for creative play.
Where to Buy: Amazon | LEGO.com
4. LEGO NINJAGO Land Bounty
Kids will love building the versatile LEGO® NINJAGO® 70677 Land Bounty toy truck for play battles between the ninja action figures and snake queen Aspheera's Pyro Vipers. This mobile ninja HQ features a steering function, 2 shuriken slicers, rotating shooting cannon, retractable spring-loaded shooter and an easily accessible, detailed interior to inspire creative play.
Where to Buy: Amazon | LEGO.com
5. LEGO Marvel Avengers: Avengers Ultimate Quinjet
Team up with the Avengers and fly into conflict against the Chitauri in the LEGO Marvel Avengers 76126 Avengers Ultimate Quinjet. This awesome Marvel model features an opening minifigure cockpit, stud shooters, adjustable wings, spinning rotors, opening passenger compartment and an opening rear compartment with a fold-out 6-stud rapid shooter and stud-shooting trike. This cool construction toy for kids includes 6 minifigures—including Black Widow, Hawkeye, Rocket and Thor, all with new-for-March-2019 Avengers team suit decoration—and cool weapons for imaginative play and to recreate thrilling scenes from the Marvel Avengers movies.
Where to Buy: Amazon | LEGO.com
6. LEGO Star Wars Boost Droid Commander
Introduce creative kids to a rich LEGO brick galaxy of lovable toy droids, exciting missions and coding with the LEGO Star Wars BOOST Droid Commander educational coding toy for kids. This interactive buildable robot toy model puts your child in command of 3 app-controlled Star Wars droids: R2-D2, a Gonk Droid and a Mouse Droid, each with their own personalities and skills.
Where to Buy: Amazon | LEGO.com
7. LEGO Harry Potter and The Goblet of Fire Hogwarts Clock Tower
Transport fans of Harry Potter™ aged 9 and over to a magical world inside the LEGO® Harry Potter 75948 Hogwarts™ Clock Tower set. With 8 minifigures and iconic locations from Harry Potter and the Prisoner of Azkaban™ and Harry Potter and the Goblet of Fire™, kids will be immersed in a world of imaginative play. Whether visiting Dumbledore's office or attending a Defense Against the Dark Arts lesson, traveling through time by resetting the tower clock or unwinding at the Yule Ball by operating the 'dance' function… once they enter the Hogwarts Clock Tower, they'll never want to leave!
Where to Buy: Amazon | LEGO.com
8. LEGO Friends Rescue Mission Boat
Give the gift of endless hours of exciting animal rescue adventures with LEGO® Friends 41381 Rescue Mission Boat creative toy. Your little explorer will be able to play out a multitude of animal-saving scenarios with this highly equipped toy boat. There is a speedboat bay with launching function, swiveling crane with a stretcher for transporting sick animals, lookout position and a cockpit area. The deck is removable to allow access to the cabin, which includes a lab, kitchen and a bedroom complete with toilet. Extending the play further is a separate heart-shaped island where a hidden water-reactive textile map hides the location of the underwater treasure chest. 
Where to Buy: Amazon | LEGO.com
9. LEGO Disney Frozen II Arendelle Castle Village
The LEGO® l Disney Frozen II 41167 Arendelle Castle Village playset will give any fan of the movie endless hours of magical creative play. Perfect for reenacting favorite scenes, Anna and Elsa's home has 3 stories that can be easily removed and reassembled for play access inside. The furniture pieces are also designed to be easily moved and rearranged between the throne room, bedroom and attic floors. Outside, the market stalls are full of their finest produce, and there's a rowing boat at the jetty, just waiting to be taken on an adventure! This Arendelle playset includes 3 favorite Disney characters and 3 LEGO animal figures.
Where to Buy: Amazon | LEGO.com
10. LEGO Disney Frozen II Enchanted Treehouse
There are so many forest adventures for Disney Frozen fans to build and play out in the LEGO® l Disney Frozen II 41164 Enchanted Treehouse set. This buildable magic treehouse playset features a bedroom area in the base of the tree and a dining area on the floor above. There's a ladder up to the lookout and an awesome zip line to whizz down to the enchanted forest floor, where kids will love to look after the 2 bunnies in their little house. A camping area and a fishing area with flying fish function are perfect for creating fun adventures with Anna, Olaf and Mattias from Frozen II. Explore the forest and discover the mythical stones on an epic and magical journey. Includes 3 favorite Disney characters from Frozen II and 3 LEGO animal figures.
Where to Buy: Amazon | LEGO.com
Which of these Top 10 Hottest LEGO Sets are you putting on your shopping list this year?
---
Check Out More of Our 2019 Small Town Christmas Gift Guide
Discover more "Top 10" gift lists plus some of the HOTTEST products for 2019 in our Small Town Christmas Gift Guide.
---